Hello,
In the following example, I'm trying to find matching values in column "Match 1" (before this "match" action, column "Match 1" had the same value as column "des_val", so basically in the example here it's doing the match action on the value "a++/a+".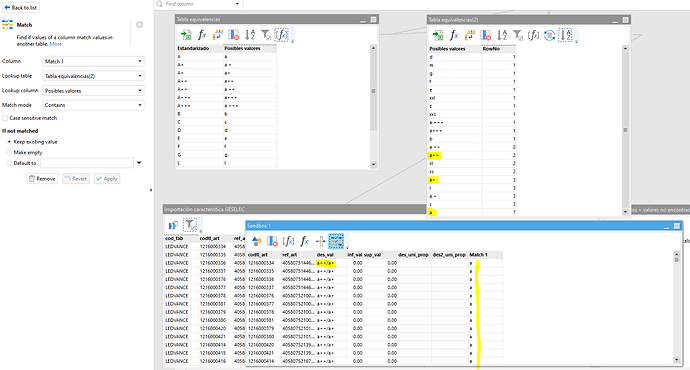 The lookup table is "Tabla equivalencias(2)", and the lookup column "Posibles valores". I have ordered the rows in table "Tabla equivalencias(2)" so that the value "a" is at the last position. I don't understand why the matching value is "a" when it should be "a++", which is listed before.
In the opening post to this other thread ("Match" action with mode "Contains" - difficulties matching certain values), I saw that this is the behavior, it matches only the first value in the list. Now I'm trying to reproduce this same behavior, but I 'm not able to do it with this example.
I'm not sure what I'm doing wrong.
Thanks very much,
Roberto