First of all, I want to thank this community and EasyMorph. Its an amazing tool but a robust community!
Unfortunately, I came to a point where I'm stuck being able to read a .txt file and converting to .csv.
Based on the following criteria:
Each Row:
Record Type: 00 Characters 1-2
Column 1: Characters 3-6
Column 2: Characters 7-12
Column 3: Characters 13-20
Column 4: Characters 21-27
Record Type: 01 Characters 1-2
Column 5: Characters 3-5
Column 6: Characters 6-9
Column 7: Characters 10-15
Column 8: Characters 16-24
I would like to turn something like this: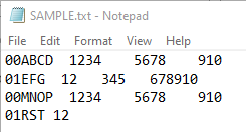 into this:

I have tried multiple ways but I have been unsuccessful. I know there are some great experts here that can provide some guidance.
I have attached the files for reference.
SAMPLE.txt (100 Bytes) Sample.xlsx (9.6 KB)
Thanks for the support!