Hello,
In the excel file I'm importing to EasyMorph, some of the empty cells are slightly shaded and others are white. When I use the filter in EasyMorph, I see that the ones that are slightly shaded correspond to <"empty"> while those that are white correspond to '' (blank), here is a screenshot: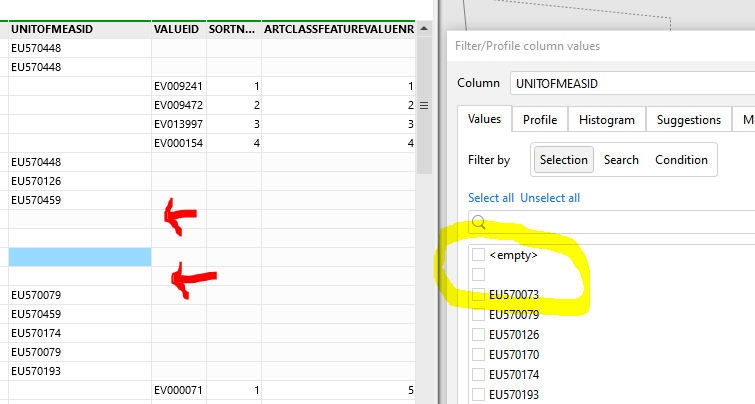 In column UNITOFMEASID, I don't understand why the cell below the first instance of EU570459 is slightly shaded, while the cell above EU570079 is white. Why is one <"empty"> and the other '' (blank), and what do these values mean?
When I open imported excel file in actual Excel and go to these cells, they are all empty and there is no apparent difference between them.
I also find it strange that in column UNITOFMEASID, most empty cells stay white, while in column VALUEID for example, empty cells stay slightly shaded.
I detected this because when a value is <"empty">, a formula such as if([UNITOFMEASID]='',"Unit", "No Unit") does not work, as ' ' is not the same thing as <"empty">.
I attach the origin excel file: SOURCE2.xlsx (17.8 KB)
Thanks very much,
Roberto