Hi,
Just updated to latest version 3.9.3.1.
I have a project which holds a sandbox, calling a different project, removes and reorders columns before exporting and sending an email.
Upon opening the project, following error appears: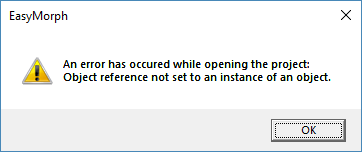 The project was running fine this morning.
What has changed since last successful run earlier?
Corporate password changed (used in the mailing transformation)
Upgrade to latest version (3.9.3.1 from 3.9.2.3)
Called project last saved with newest version (3.9.3.1)
data_IMD_ExportMasterData.morph (4.6 KB) (failing project)
data_Masterdata_ItemVol.morph (54.8 KB) (project to import from)
Downgrading to previous version (3.9.2.3) allows loading the project, so it appears to be a bug in 3.9.3.1.