Hello,
I must call Magento webservice with parameter.
The module use a parameter to send list of integer.
I must send 1,2 but I send '1,2' or 12.
I test with astext to view issue.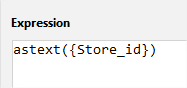 Test with 1,2


Test with '1,2'


Paramater is used with action "Import from web API".


How can I do ?
Suggest :
Enable add with an option : log of url called by action