We're launching a new product. It's called CSViewer. CSViewer a light-weight viewing/analysis tool for CSV files (and other delimited types of files – PSV, TSV, etc.). Here is what it looks like: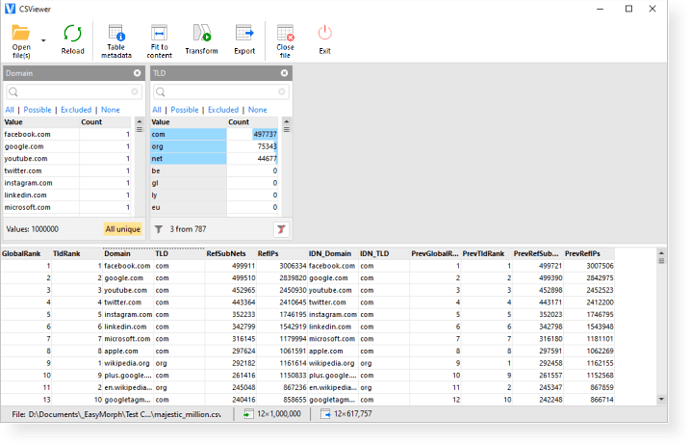 CSViewer has 4 main features:
1) View contents of CSV files
That part is simple: load one CSV file, or a collection of files, and view/analyze the contents. Loading a collection of files is a rare feature among similar tools, but it's very useful for dealing with regularly generated data extracts.
2) Profile CSV files
The "Table metadata" window provides full-table profiling information for every column in a single view: various counts, min/max numbers, min/max text lengths, etc.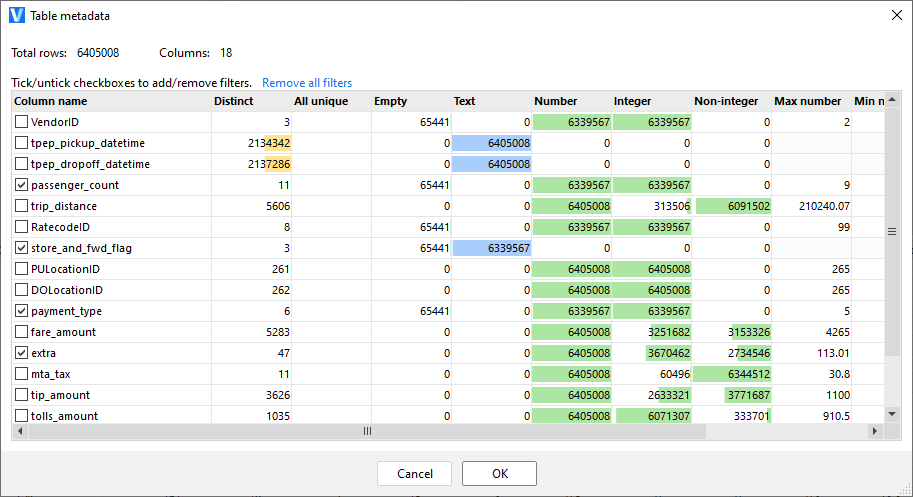 3) Query/analyze CSV files
Here it gets a bit more interesting. We've implemented so called associative filtering which was pioneered by Qlik many years ago. Associative filtering is extremely good for analyzing relationships in data:
When an item is selected, it's easy to see all the associated entities. For instance, when a product ID is selected, you can instantly see in which cities/regions there are orders for the product (assuming this data is present in the table)
You can see not only what's included, but also what's excluded. So you can immediately see in which cities/regions the product is NOT selling.
Free-path drill-down: start analyzing from any field and drill down by any field. No pre-defined drill-down paths required.
As per the initial release, querying is limited to only filtering. Later we will add additional querying/filtering/visualization features.
4) Export filtered data
Once you have a subset of data filtered it can be exported into a CSV file, or into EasyMorph (with all the filters applied).
Who CSViewer is for?
CSViewer is intended for people who frequently need to find something in CSV files. We see it as a lightweight data retrieval/analysis tool. It's perfectly suitable for non-technical users that need an easy tool to find something in large tables that can't be loaded in Excel.
What's next
This is the initial release of CSViewer. Some things are not polished yet, so probably certain elements and features will be changing over the next few weeks or even months. Loading files isn't as fast as we would want it to be, so some load optimizations will be introduced soon.
CSViewer is based on the EasyMorph technology, therefore certain elements of it may appear in CSViewer soon. For instance, we definitely want to add a dynamic chart that will visualize filtered data. Support for .xlsx and .dset files is not improbable either.
And the other way around, certain features of CSViewer will appear in EasyMorph. For instance, full-table profiling, associating filtering will appear in the maximized table view by the end of this year.
CSViewer will remain free forever. It comprises a few components of EasyMorph re-packaged so maintaining it is a relatively low effort for us.
Any other suggestions or questions about CSViewer? First impressions to share? Please make yourself heard in the comments below.
Thank you!