Hello,
we have been working with Easymorph for some time now, great tool !!! In the past I worked intensively with Qlik and Microsoft SSIS.
I think a tool consisting of the functionalities of EM, Qlik and SSIS would be a dream. Each has its advantages.
Therefore a question about your planning regarding layout handling for the next versions.
What would suit the tool very well would be a modal window, which one e.g. on a second monitor to edit the current object.
The background is that if you work on a project after some time, you sometimes no longer know what is happening in the individual tables, modules … So you maximize tables, move objects … The created layout is destroyed. There should be an "editing window" Here is a picture of how this could look.
Functions:
Jump to predecessor, successor, synch, used lookup …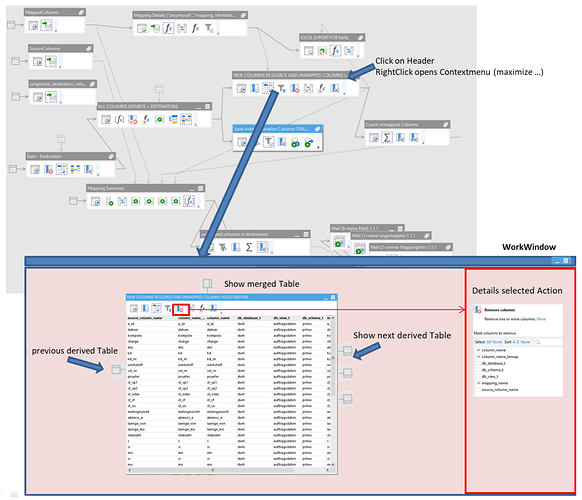 What would be great would be the following functions.
Mark, move several tables / objects (Ctrl + Mouse)
Zoom (Ctrl + Scroll), Zoom fit the screen size
Auto layout, grid
Have you planned to implement such functions in one of the next versions?
That should not be a criticism, EM is real great.
The functions would be verry helpfull.
regards,
Adrian