Hello,
In many cases in the data world, there are problems due to different encoding of CSV files than expected. For example, expecting a file in ANSI but receiving it in UTF-8, or viceversa, can give issues with unreadable characters when opening the file.
For EasyMorph processes that have a text file as an input file, it would be great for EasyMorph to auto-check the encoding of the text file. This is something that Notepad++ does for example, telling you the current encoding of the CSV file: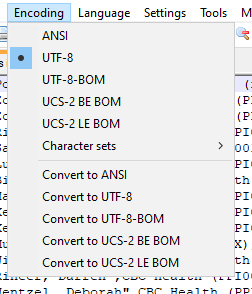 Let's say I just want to run the process if I'm sure that the CSV file I have as input is encoded as UTF-8, because I know that it won't give me any problems. If I receive a file in ANSI, I would want t the process to fail and ask the user to upload the CSV file with UTF-8 encoding.
Is this something that could be viable? Or is there something I'm missing from the current EasyMorph version that could do the trick?
Thanks a lot!
Roberto