Hi, is there any workaround on how to schedule my ETL to run on a monthly basis? Thanks, Milan
What EasyMorph edition do you use – free, Plus/Pro, Server?
Hi, I have a pro version. Thanks, Milan
Dmitry,
are there any plans to add "monthly" option to scheduling on the server?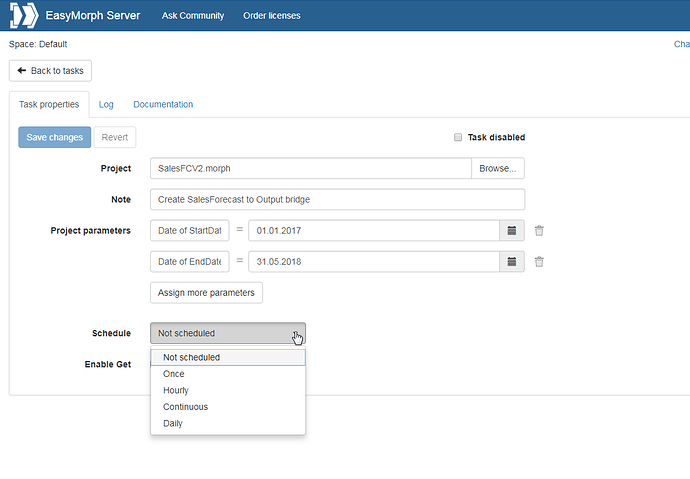 On my opinion the server should ideally give us the option to schedule all tasks directly from the web interface and not to make Windows Task Scheduler necessary.
Any thoughts on this option?
Thanks,
Daniel
We will be adding Monthly schedule in EasyMorph Server in version 3.9 (planned for release in August). No changes planned for the Desktop scheduler, though.
Great news for the server version!
Monthly schedule feature was added to the latest EasyMorph Server version which is 3.9.
Hello,
I was looking for scheduling projects on a monthly basis and found out this topic. I downloaded lastest version 3.9.5.6 but didn't find monthly frequence in scheduling of Launcher. Is it still something on your roadmap of new features? Or did I sth wrong?
What is the purpose of the half-backed scheduler in the launcher?
I hope to understand the thoughts behind it because right now it just looks like a very un-finished scheduler. Looking at the very limited time intervals to pick from.
The thoughts are simple: the Launcher is a no-extra-cost light-weight scheduling and launching utility intended for individual use. The Server is a full-scale scheduling application intended for production use and is licensed separately. The set of features available in both products roughly corresponds to their purpose and pricing.