Hi,
I have an excel file showing the number in one cell : 35491533,8273083.
When I rename the excel file as zip, and then goes to xl>worksheets>sheet1.xml the real number is 35491533,827308349. So everything is fine in Excel because it rounds correctly.
However if I import the same excel file easymorph shows 35491533,8273084 (version 5.4.2)
See example attached
Classeur1.xlsx (9.8 KB)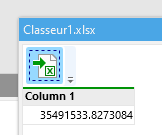 Can you please investigate ? It can cause trouble when you sum many amounts like that => sum can be very different between tools.