We are doing a one week evaluation (before purchase) of EasyMorph. We like a lot of what we see.
But to convince management we have to do an Insert into our MS-SQL DB (which is being managed by an ERP system called Epicor).
I just tried to do an SQL insert . The connection is working fine to the table, But I suspect the generated SQL needs more fields (I am only sending one).
Where can I see the exact SQL (over ODBC) that is being sent, and then I can tell you what we want the SQL to be.
in the picture below, I see what the columns that EasyMorph sees.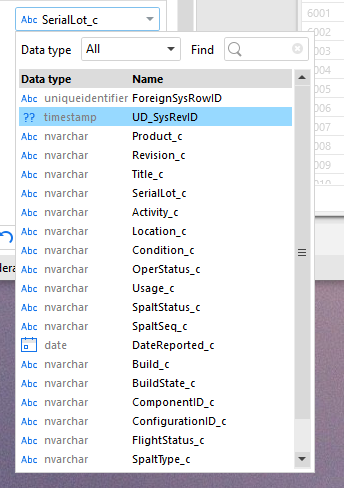 20190923121426 Information Starting application version 3.9.5.6 with command line: "D:\Program Files\EasyMorph\Morph.exe"
20190923121428 Information New project
20190923121444 Information Open project D:\Epicor DEV\Federated Data\IMU.morph
20190923121528 Information File dropped: D:\Epicor DEV\Federated Data\TGIN-IMU.csv
20190923121528 Information Add table TGIN-IMU.csv to tab Tab 1
20190923121531 Information Changing selection to table TGIN-IMU.csv
20190923121719 Information Add action Calculate new column(s) to table TGIN-IMU.csv
20190923121719 Information Remove action Calculate new column(s) from table TGIN-IMU.csv
20190923121727 Information Add action Calculate new column(s) to table TGIN-IMU.csv
20190923121904 Information Changing selection to table TGIN-IMU.csv
20190923121907 Information Change properties of action "Calculate new column(s)" in table "TGIN-IMU.csv":
Columns
20190923121952 Information Change properties of action "Calculate new column(s)" in table "TGIN-IMU.csv":
Columns
20190923122005 Information Changing selection to table TGIN-IMU.csv
20190923122005 Information Changing selection to action "Calculate new column(s)" in table "TGIN-IMU.csv"
20190923122030 Information Add action Remove columns to table TGIN-IMU.csv
20190923122131 Information Changing selection to table TGIN-IMU.csv
20190923122133 Information Changing selection to table TGIN-IMU.csv
20190923122133 Information Changing selection to action "Remove columns" in table "TGIN-IMU.csv"
20190923122146 Information Change properties of action "Remove columns" in table "TGIN-IMU.csv":
ColumnNames
20190923122232 Information Add action Export to database to table TGIN-IMU.csv
20190923122313 Information Change properties of action "Export to database" in table "TGIN-IMU.csv":
TableName
20190923122344 Information Changing selection to table TGIN-IMU.csv
20190923122344 Information Changing selection to action "Import delimited text file" in table "TGIN-IMU.csv"
20190923122446 Information Changing selection to table TGIN-IMU.csv
20190923122446 Information Changing selection to action "Remove columns" in table "TGIN-IMU.csv"
20190923122501 Information Add action Rename columns to table TGIN-IMU.csv
20190923122504 Information Changing selection to table TGIN-IMU.csv
20190923122504 Information Changing selection to action "Remove columns" in table "TGIN-IMU.csv"
20190923122505 Information Changing selection to table TGIN-IMU.csv
20190923122505 Information Changing selection to action "Export to database" in table "TGIN-IMU.csv"
20190923122509 Information Changing selection to table TGIN-IMU.csv
20190923122514 Information Changing selection to table TGIN-IMU.csv
20190923122516 Information Move action "Export to database" in table "TGIN-IMU.csv" to position 4
20190923122517 Information Changing selection to table TGIN-IMU.csv
20190923122517 Information Changing selection to action "Rename columns" in table "TGIN-IMU.csv"
20190923122529 Information Change properties of action "Rename columns" in table "TGIN-IMU.csv":
Names
20190923122531 Information Changing selection to table TGIN-IMU.csv
20190923122531 Information Changing selection to action "Export to database" in table "TGIN-IMU.csv"
20190923122540 Information Run project with reload
20190923122540 Error Run complete with 1 errors:
Error: Export of row #0 failed with the following error: The INSERT statement conflicted with the FOREIGN KEY constraint "FK_UD18_UD_UD18". The conflict occurred in database "ERP10.2Test", table "Ice.UD18", column 'SysRowID'.
The statement has been terminated.
Source: Action "Export to database" in table "TGIN-IMU.csv" in project "D:\Epicor DEV\Federated Data\IMU.morph"