Dear Community,
I can't seem to be finding the right solution, or I might have overseen a simple solution.
I have a table of lab experiment results with repeating messages identifying a certain action which occur once per trial and subject (multiple trials per subject). The problem is, that some of these action messages repeat as duplicates within the range of a few rows (repetition is not regular) and these duplicates need to be removed, however leaving the messages from other trials and subjects remaining in the table. Here an example table: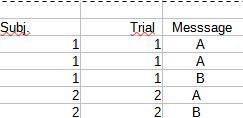 The messages are identical for each subject and trial, so I would need to remove duplicates of the message when within the same trial and within the same subject such that for instance message A only occurs once for subj 1 in trial 1. Further the problem is, that duplicates occur for all messages once in a while, not oly for A, but sometimes for B and C as well.
Would anyone know a possible solution, or could point me in the right direction?
Any advice is greatly appreciated.
Greetings
PS I started using Easy Morph fairly recently and so far I am extremely satisfied with its ease of use and smooth handling of large datasets.

``