Running latest version: 5.3.4.1
I built a couple Charts (bar and line), and both of them cause EasyMorph to crash when I maximize them (and go to "Analysis View") and then click "Filters pane".
Btw, it's a minor concern - first time I have experienced anything like this in EasyMorph. Tool is still exceptional.

Pasting chart and error message.
No rush to respond - this is not on my critical.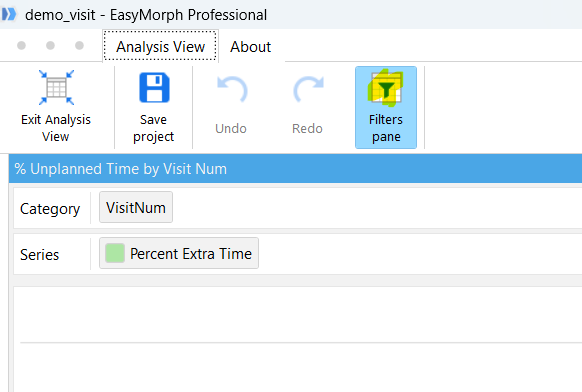 Error information:
Object reference not set to an instance of an object.
Exception type: System.NullReferenceException
Stack trace:
at -.dje_zPD4KJLKBKSEAGFXGPHS485MJBXRQ_ejd.#=zdhGXsWTRbmO3(AnalysisViewLayoutMode #=zpxgJURI=)
at Morph.Workflow.WorkflowAppControl.btnFiltersPanel_Unchecked(Object sender, RoutedEventArgs e)
at System.Windows.EventRoute.InvokeHandlersImpl(Object source, RoutedEventArgs args, Boolean reRaised)
at System.Windows.UIElement.RaiseEventImpl(DependencyObject sender, RoutedEventArgs args)
at -.dje_z8N9Q39NV9VWP67DZ6WEAQDMAAJGQ_ejd.OnUnchecked(RoutedEventArgs #=zpX3Itig=)
at System.Windows.Controls.Primitives.ToggleButton.OnIsCheckedChanged(DependencyObject d, DependencyPropertyChangedEventArgs e)
at System.Windows.DependencyObject.OnPropertyChanged(DependencyPropertyChangedEventArgs e)
at System.Windows.FrameworkElement.OnPropertyChanged(DependencyPropertyChangedEventArgs e)
at System.Windows.DependencyObject.NotifyPropertyChange(DependencyPropertyChangedEventArgs args)
at System.Windows.DependencyObject.UpdateEffectiveValue(EntryIndex entryIndex, DependencyProperty dp, PropertyMetadata metadata, EffectiveValueEntry oldEntry, EffectiveValueEntry& newEntry, Boolean coerceWithDeferredReference, Boolean coerceWithCurrentValue, OperationType operationType)
at System.Windows.DependencyObject.SetValueCommon(DependencyProperty dp, Object value, PropertyMetadata metadata, Boolean coerceWithDeferredReference, Boolean coerceWithCurrentValue, OperationType operationType, Boolean isInternal)
at System.Windows.DependencyObject.SetCurrentValueInternal(DependencyProperty dp, Object value)
at System.Windows.Controls.Primitives.ToggleButton.OnToggle()
at System.Windows.Controls.Primitives.ToggleButton.OnClick()
at System.Windows.Controls.Primitives.ButtonBase.OnMouseLeftButtonUp(MouseButtonEventArgs e)
at System.Windows.RoutedEventArgs.InvokeHandler(Delegate handler, Object target)
at System.Windows.RoutedEventHandlerInfo.InvokeHandler(Object target, RoutedEventArgs routedEventArgs)
at System.Windows.EventRoute.InvokeHandlersImpl(Object source, RoutedEventArgs args, Boolean reRaised)
at System.Windows.UIElement.ReRaiseEventAs(DependencyObject sender, RoutedEventArgs args, RoutedEvent newEvent)
at System.Windows.UIElement.OnMouseUpThunk(Object sender, MouseButtonEventArgs e)
at System.Windows.RoutedEventArgs.InvokeHandler(Delegate handler, Object target)
at System.Windows.RoutedEventHandlerInfo.InvokeHandler(Object target, RoutedEventArgs routedEventArgs)
at System.Windows.EventRoute.InvokeHandlersImpl(Object source, RoutedEventArgs args, Boolean reRaised)
at System.Windows.UIElement.RaiseEventImpl(DependencyObject sender, RoutedEventArgs args)
at System.Windows.UIElement.RaiseTrustedEvent(RoutedEventArgs args)
at System.Windows.Input.InputManager.ProcessStagingArea()
at System.Windows.Input.InputManager.ProcessInput(InputEventArgs input)
at System.Windows.Input.InputProviderSite.ReportInput(InputReport inputReport)
at System.Windows.Interop.HwndMouseInputProvider.ReportInput(IntPtr hwnd, InputMode mode, Int32 timestamp, RawMouseActions actions, Int32 x, Int32 y, Int32 wheel)
at System.Windows.Interop.HwndMouseInputProvider.FilterMessage(IntPtr hwnd, WindowMessage msg, IntPtr wParam, IntPtr lParam, Boolean& handled)
at System.Windows.Interop.HwndSource.InputFilterMessage(IntPtr hwnd, Int32 msg, IntPtr wParam, IntPtr lParam, Boolean& handled)
at MS.Win32.HwndWrapper.WndProc(IntPtr hwnd, Int32 msg, IntPtr wParam, IntPtr lParam, Boolean& handled)
at MS.Win32.HwndSubclass.DispatcherCallbackOperation(Object o)
at System.Windows.Threading.ExceptionWrapper.InternalRealCall(Delegate callback, Object args, Int32 numArgs)
at System.Windows.Threading.ExceptionWrapper.TryCatchWhen(Object source, Delegate callback, Object args, Int32 numArgs, Delegate catchHandler)