To signal about non-critical issues, EasyMorph generates warnings (starting from version 4.4). Unlike errors, warnings don't make projects fail because the detected problems aren't deemed critical. Nevertheless, they may signal about possible data quality issues or errors in workflows.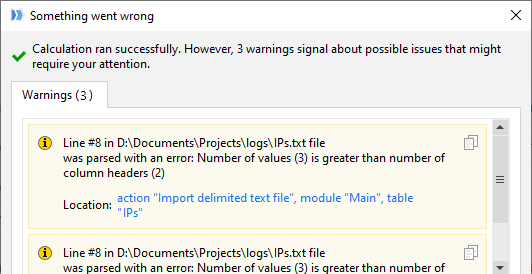 While warnings don't cause projects fail, we recommend fixing the issues that trigger warnings and making sure your workflows are warning-free.
In the action settings, it is possible to make action fail on warning. In this case, a warning in that action will become an error and will cause the project fail.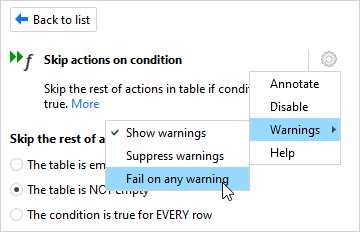 It is also possible to suppress warnings in an action, but we generally don't recommend doing this and discourage warning suppression as a "lazy" way to get rid of warnings. If you believe a warning is not helpful - let us know (e.g. in the comments below).
Examples of warnings generated by EasyMorph:
Merge is successful, but all merged columns are empty
A local constant is defined in expression but never used
A line in a delimited text file has more values that the number of column headers (a columns) in the file
If you have suggestions for warnings in EasyMorph, please feel free to suggest them in the comments below or in a separate topic in #feature-requests.