As more and more people become more experienced with EasyMorph, and more and more organizations now use EasyMorph, some organizations might find themselves looking for an extra pair of hands to help with designing EasyMorph workflows.
Please post in this thread if you're ready to provide help with designing EasyMorph workflows as a freelancer or consultant.
Please DO NOT post in this thread if you're looking for someone to help. Instead, send DMs (direct private messages) to those who have posted here. To send a DM, click the person's name (or avatar), then in the pop-up window that opens click the "Message" button (see an example below).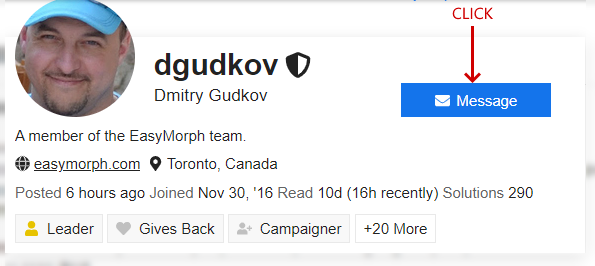 Further plans
If we see that the demand is growing, we might eventually create a new category "Marketplace". For now, let's use this thread.
Legal note
EasyMorph Inc is not responsible for and is not part of any agreements made between the consultants and the customers who found each other on this forum. If any disputes arise, they must be resolved between the parties, without involving EasyMorph Inc.
EasyMorph Inc doesn't bear responsibility for the correctness of information provided by customers or consultants that use this forum.