Hi Community,
Just to share something to add hyperlink in Excel cells.
Background:
Exporting hyperlinks is not supported out of the box by EasyMorph.
I have developed some Excel VBA / macro codes to add hyperlink into cells, it works fine with less than 65582 rows. Here is the main part of the VBA codes:
Dim s As String, xCell As Range
On Error Resume Next
For i = 2 To iRow
If Left(Range("N" & i & ":" & "N" & i).Value, 7) = "http://" Then
s = Range("N" & i & ":" & "N" & i).Value
Set xCell = Range("N" & i & ":" & "N" & i)
ActiveSheet.Hyperlinks.Add Anchor:=xCell, Address:=s, TextToDisplay:=s
End If
Next i
On Error GoTo 0
I have an Excel file with more than 142000 rows, then this VBA / macro fails from row 65582.
I didn't work out a work around in Excel.
Maybe I could approach like this, write 3 different VBA codes to load hyperlinks in 3 steps, 60000 rows a time.
Do you have any good idea?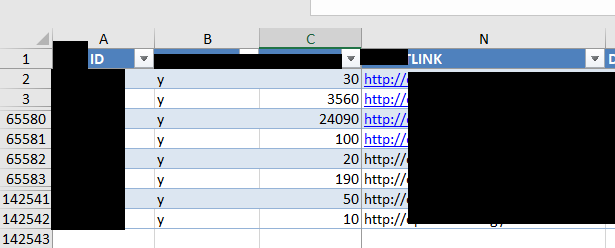 Best regards.
Cambridge