Hello,
I attach an image of the origin table I have. What I want to create is new table for each new "ARTCLASSID" value (the first one is EC000001). Once this table is created, I want it to have as columns the list of "FEATUREID" that EC000001 has. For example, column 1 would have as header EF007220, column 2 would have as header EF007219, etc.
Finally I have a condition that slightly changes the logic of column creation: depending on the column "FEATURETYPE", some of these columns in the new table would have to be repeated (in the case that FEATURETYPE is "R", then column 1 would be "EF007220 - (min)" and column 2 "EF007220 - (max)", column 4 "EF007219 - (min)" and column 4 "EF007220 - (max)", because both EF007220 and EF007219 have FEATURETYPE "R". However, the next FEATUREID, EF000073, has FEATURETYPE "A", so in this case only one column should be created, with header "EF000073".
I attach a screenshot of the original table. From this table I would like to create one table per ARTCLASSID (so 1 table for EC000001, 1 table for EC000003, etc.) each of them with their respective columns which are taken from the values in column "FEATUREID", and following the logic I explained regarding FEATURETYPE "R".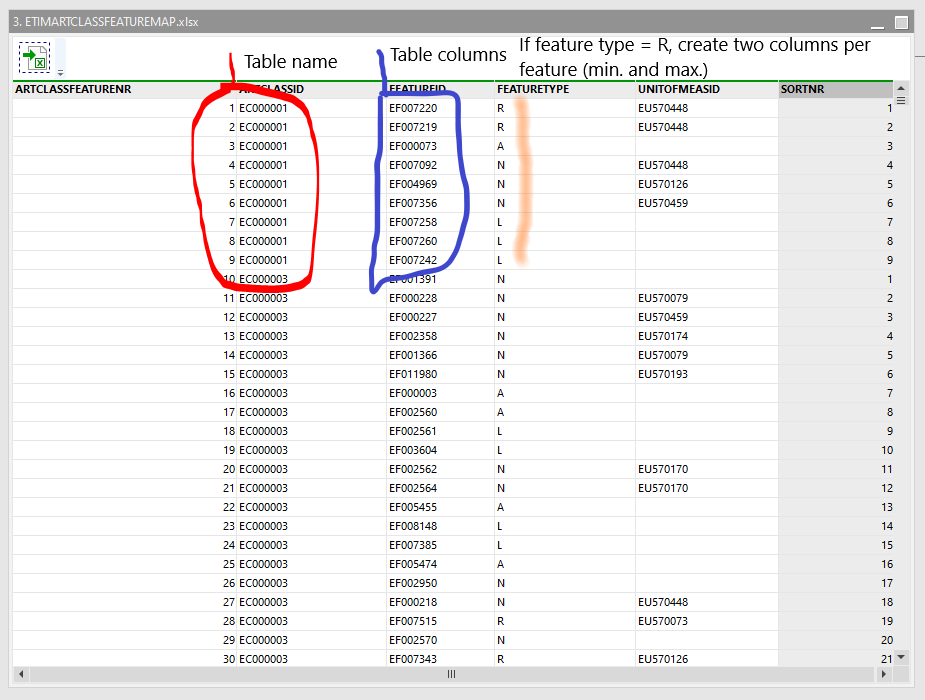 Is it possible to obtain all the resulting tables using EasyMorph? If you need additional info, please let me know!
Thanks very much,
Roberto