In previous versions the "Aggregate" action in the "Concatenate" mode concatenated values differently depending on whether grouping was applied or not. Without grouping, values were concatenated in the straight order. With grouping, values were concatenated in the reverse order.
Concatenation order before v4.4:

Such behavior was inconsistent and sometimes required additional sorting prior to aggregation. The new version changes the concatenation order to straight one in all cases to make behavior consistent. However, the change is a breaking change. If a project was dependent on concatenation order, then it needs to be reviewed and edited in order to work correctly in version 4.4.
Concatenation order starting from v4.4: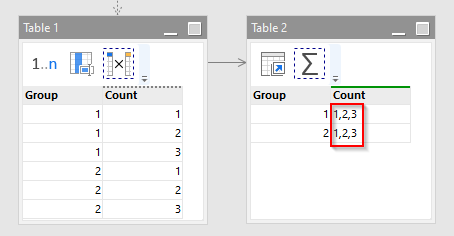 To simplify finding projects that may require editing in order to keep working correctly in v4.4, we've created a scanner project that scans EasyMorph projects in a given directory and finds those that can be affected by the change. Here is the project (you will need version 4.4 to open it):
Here is the scanner project:
IdentifyAggregateConcatenate.morph (20.5 KB)
Use it as follows:
Install EasyMorph 4.4, but don't save any old projects in it yet.
Open the scanner project, provide the root folder for your EasyMorph projects.
Run the scanner project
Review all projects detected by the scanner project as potentially vulnerable to the breaking change, and edit them if necessary to compensate the change. See table "Breaking changes" to see the locations of Aggregate actions that can be affected by the change.
Save reviewed projects in v4.4 and re-scan. The projects should disappear in the table "Breaking changes".
Hint: you can iterate the scanner project from another project, if you have many root folders with EasyMorph projects.